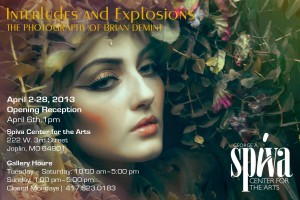 Last April, Spiva Center for the Arts, a local gallery, hosted Eyeworks' exhibit titled: Interludes and Explosions: the Photography of Brian DeMint. The show included some of Brian's old favorites and some pieces not previously release. There were seventeen pieces and still each piece ranging in color and style.
"I received a plethora of wonderful comments about the show, sold many works and could not have been happier about the whole experience. I want to thank everyone who made it to the show and for the wonderful comments I received…. Also a shout out to Sarah Clements, Caleb Daniel, Natalie DeMint and Dena DeMint for helping to hang the show and special thanks to Spiva director Jo Mueller and Shaun Conroy for their support and help." – Brian DeMint
Eyeworks will be looking for more venues for gallery shows so please contact him personally at 417-438-4229 or at eyeworksphotography@gmail.com if you are interested in hosting any of his work…thank you.